Scoring a hat trick at Nationals!
Team Ciro really shined at the SCASA National Coffee Competition that took place this last weekend, with three phenomenally skilled individuals showing everyone what they're made of.
The Artist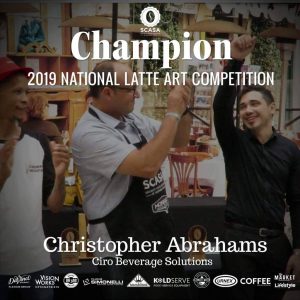 Six years ago, a young law student named Christopher Abrahams decided to answer his calling and accept a job offer at Ciro Beverage Solutions. His passion for all things coffee – Latte art in particular – has led him to compete in regional and national coffee competitions and, this year, he was crowned the South African Latte Art Champion once again, retaining his title from 2018.
"I must admit, it was a relief," Christopher laughs. "Waiting in suspense isn't the easiest thing to deal with after competing in a final, especially knowing that I was up against a tough competitor – and a good friend – Rodney Swartz, who is an amazing Latte artist."
When he is not busy heading up the training department in Ciro's Western Cape region, Christopher is honing his Latte art skills. His professional and methodical approach to creating almost three-dimensional designs with texturised milk on espresso coffee has once again provided him with the opportunity to represent South Africa on the world stage.
The Taster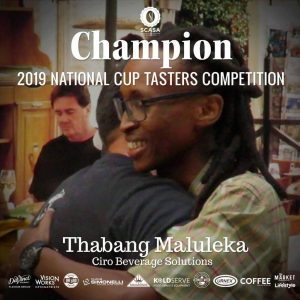 The coffees proved very tough in the Cup Tasters rounds but, in the end, four tasters progressed to the finals – including the reigning SA Champ, Don McLagan, and Ciro rising star Thabang Maluleka.
Thabang showcased excellent skill and commitment throughout his performance, cupping eight sets of three cups each, and having to identify the odd cup from every set. He correctly identified six out of eight sets in just over four minutes!
As Ciro's quality assurance technician at the Johannesburg roastery, Thabang has had many years of dedication to focus and to perfect his tasting skill. His meticulous and methodical approach to cupping and tasting stood him in good stead and he took the gold in the finals of the National Cup Tasters Competition.
The Judge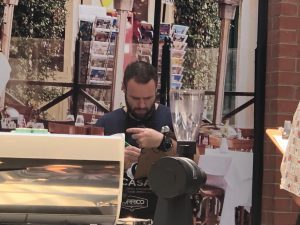 Apart from two champs competing on stage, Ciro also had a world-certified judge participating at the Nationals, assessing and scoring the baristas.
An experienced sales consultant in Ciro's KZN region, Tim Krynauw is one of the company ambassadors who sacrifice their time to commit to industry events, with the aim of uplifting local baristas. Tim did an excellent job at the Competition, and made everyone proud.
What's next for Ciro's Latte Art and Cup Taster champions? Both Thabang and Christopher will be heading to Berlin, Germany to compete at the 'World of Coffee', part of the 2019 World Coffee Championships (WCC). From 6-8 June, the WCC will feature the World Latte Art and the Cup Tasters Competitions.
Christopher still regrets not taking the crown at the 2018 World Latte Art champs in Brazil, and he is determined to reach the semi-finals and give it another go this year. "I feel that it's important to learn from your mistakes and improve," he says. "The objective is always to be better and fortunately one can only improve when you've had the opportunity to make mistakes."
We are wishing Christopher and Thabang all the best in Berlin, with a steady hand and a discerning palate on stage!