Ciro Coffee Boutique brings the best coffee and tea brands directly to your door. Designed to service small to medium-sized businesses as well as the at-home coffee connoisseur, our online platform offers all the products and equipment you need to turn coffee breaks into a blissful experience.
Your perfect coffee shopping experience
Tailored for businesses and individuals with smaller consumption requirements, Ciro Coffee Boutique gives coffee lovers a convenient and cost-effective way to purchase and enjoy premium beverage brands on demand. Our offering includes the options to:
Create your own in-house coffee station with Ciro's pre-packaged starter kits.
Instantly upgrade your coffee experience with our one-touch coffee equipment solutions and accessories.
Fill your online shopping basket with espresso and instant coffee; select your favourite black, rooibos and green teas; treat yourself to our famous hot chocolate –– and don't forget the biscuits.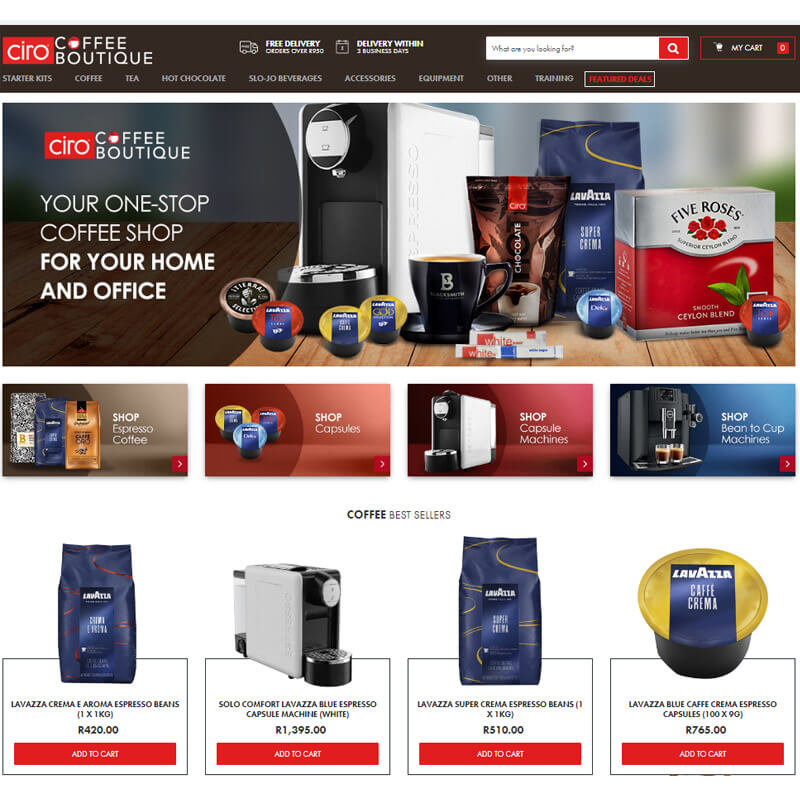 We offer a safe and secure credit card payment portal or simply pay via EFT. Ciro Coffee Boutique exclusively delivers to clients within the Republic of South Africa. Expect our couriers to deliver directly to your door within 2-3 days from payment. Enjoy free delivery on orders over R950 (incl VAT).
Carts below R950 will be charged a flat shipping rate of  R75 (incl VAT).
Does your business want to delight its visitors, employees and clients with exceptional hot beverages? Ciro Coffee Boutique is the ideal, cost-effective solution when looking to service less than 50 people. Our platform provides doctors' rooms, spas, hair salons, galleries, guest houses, B&Bs and boutique agencies with high-quality tea and coffee replenishments, along with excellent service delivery and customer support.
Have any questions about Ciro Coffee Boutique?
You can contact us on our customer service line, where we will be happy to assist you during weekdays, from 08:00 – 16:30.
Telephone: 0861 40 40 41
Email: customerservice@cirocoffeeboutique.co.za